Riboflavin Sodium Phosphate
Molecular Formula:C17H20N4NaO9P·2H2O
Molecular weight:514.36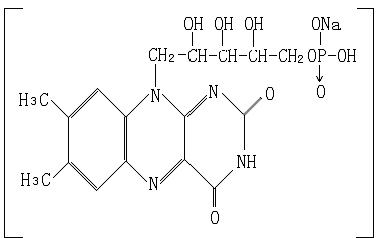 Description:It is yellow or orange crystalline powder, a little bitter, nearly odorless, hygroscopic, soluble in water, very slightly soluble in ethanol, and practically insoluble in ether.
Quality Standard: The quality standard can be seen in the attached table.
Quality Standard of VB2

Item

Index

Exterior

Orange-yellow crystalline powder

Identification

Up to standard

Inorganic phosphate

Up to standard

Specific Rotation

[α]<![if !vml]><![endif]>

+38.0º~ +42.0º

Lumiflavine

Up to standard

Clarity

Up to standard

Arsenic

≤4ppm

Heavy Metal

≤10ppm

Acidity

4.0~6.5

Loss on drying

≤10%

Content

≥95.0%
Package:Inside packing ——edible polyethylene plastic film edible
Outside packing——carton drum(Ф31*H42 cm);
Net weight: 10kg;Gross weight: 12kg.
Usage:Treat the illness of scarcity of VB2.At the same time it can be used in the product of food additives.
Storage and Transportation:It must be stored in the warehouse of ventilation, dry and shady and cool, and cannot be mixed with poisonous. Transportation is the same as storage